Product Overview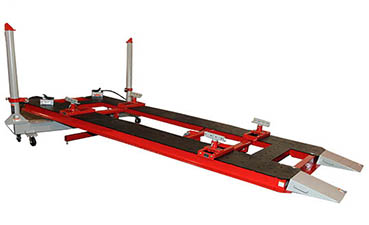 Kansas Jack builds the world's most productive collision repair equipment. Building world-class relationships with our customers and industry partners results in unparalleled solutions for today's collision repair facilities. Regardless of your size we understand your needs and our equipment is designed to meet those needs. Kansas Jack has a history of innovation in equipment design. Equipment specifically designed to enhance productivity and assure that your repairs are done right the first time every time thus assuring the shop's maximum profitability.
Magna Rack CT Brochure

Click on one of the section titles to learn more about the Magna Rack CT Series Frame Straightening Racks.
Features
---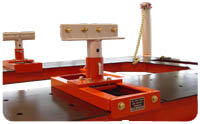 Positive Anchoring with Ease
The three-way adjustable unibody pinchweld clamps provide for infinite positioning to properly anchor the vehicle. The "drive-over" underbody clamp bases may remain attached to the platform surface. Optional specialty anchoring clamps are available for cars and trucks.
---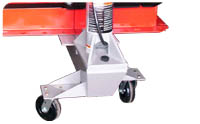 Towers with Casters
The Magna Rack CT series rack is equipped with two easy rolling towers which may be positioned anywhere around the platform perimeter. Each tower carriage easily torates and can be pinned in multiple positions to achieve the exact pull angles needed.
---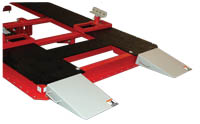 Quick Loading
The Magna Rack's removable drive-on ramps coupled with the platform hydraulic tilt feature facilitates easy drive on vehicle loading.
---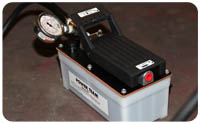 Air Hydraulic Pumps
The Magna Rack CT series is equipped with hydraulic foot pumps.
(Two air hydraulic foot pumps without gauges come standard)
---
Front and Rear Removable Cross-Members
Perform a front-end pull removing mash, and then remove the cross-member to gain unrestricted access to the vehicle.
---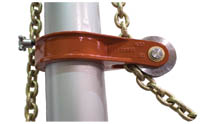 Infinite Positioning of Pull Collars
Variable-position pull collars provide for unlimited positioning for the correct alignment with the pull being made.
---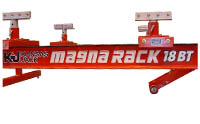 Strong and Dependable
The CT frame rack's 6.5" deck profile provides you with a strong and dependable rack with unbelievable pulling power.
---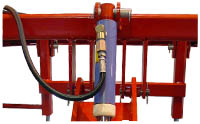 Lifting Power
10,000 lb lifting capacity provides you with more than enough strength to pick-up the vehicles you will encounter.
---
Available Configurations
| | Part Number | Number of Towers | Shipping Weight |
| --- | --- | --- | --- |
| Magna Rack 18 CT | KJ9011187 | 2 | 4,600 lbs (2,087 kg) |
| Magna Rack 20 CT | KJ9011200 | 2 | 6,600 lbs (2,994 kg) |
| Magna Rack 22 CT | KJ9011204 | 2 | 7,100 lbs (3,221 kg) |
Specifications
| | Magna Rack 18 CT | Magna Rack 20 CT | Magna Rack 22 CT |
| --- | --- | --- | --- |
| Rack Length: | 18' (549 cm) | 20' (607 cm) | 22' (607 cm) |
| Rack Max. Length (with Towers): | 23' 9" (724 cm) | 25' 10" (787 cm) | 27' 10" (848 cm) |
| Width of Rack: | 84" (213 cm) | 92" (234 cm) | 92" (234 cm) |
| Width of Rack (with Towers): | 13' 4" (406 cm) | 14' (427 cm) | 14' (427 cm) |
| Width of Treadway: | 24" (61 cm) | 28" (71 cm) | 28" (71 cm) |
| Center Opening Width: | 36" (91 cm) | 36" (91 cm) | 36" (91 cm) |
| Overall Height (Towers Down): | 7' 1.5" (217 cm) | 7' 1.5" (217 cm) | 7' 1.5" (217 cm) |
| Overall Height (Towers Extended): | 7' 11.5" (243 cm) | 7' 11.5" (243 cm) | 7' 11.5" (243 cm) |
| Tie-Downs: | 72 | 82 | 92 |
| Down Pulls: | 106 | 118 | 130 |
| Power Requirements: | Air | Air | Air |
| Working Height: | 22" (671 cm) | 22" (671 cm) | 22" (671 cm) |
Accessories
| Part Number | Description |
| --- | --- |
| K0059326 | Basic Accessory Kit. Set Includes: 1 Self-Tightening Pull Clamp (Single-Bolt), 1 Side Pull Bracket (Single-Bolt), 1 Self-Tightening Pull Clamp (Double-Bolt), 1 Side Pull Bracket (Double-Bolt), 1 Self-Tightening/Multi-Angle Pull Clamp, 1 Small Fender Puller (Uneven Bars), 1 Self-Tightening O-Ring Pull Clamp, 1 Tac Clamp, 1 Tac Clamp Plate (3"), 1 Tac Clamp Plate (2"), 1 Tac Clamp Plate (1"), and Silhouette Tool Board |
| 9020026 | Truck Tie-Down Board |
| 9020030 | Vehicle Loading Package. Includes: Winch, Wheel Stands, Car Dollies, and 2 Bag Air Jack |
| 9025050 | Overhead Pull with Collar |
| SL59319 | Light Duty Frame Anchoring |
| 9025008 | Down Pull |
| 9025018 | Pushing Post with Ram and Pump |
| B9770100 | Twin Bag Air Jack. A sturdy quick method to raise a vehicle. Lifting jack lowers to 5.7" and raises to 13.75". The fastest method for loading vehicles onto unibody stands. Push of a button lowers the jack, push of another button raises it. Two ton capacity. |
| B9770200 | Triple Bag Air Jack. A sturdy quick method to raise a vehicle. Lifting jack lowers to 6.812" and raises to 18". The fastest method for loading vehicles onto unibody stands. Push of a button lowers the jack, push of another button raises it. Two ton capacity. |