Product Overview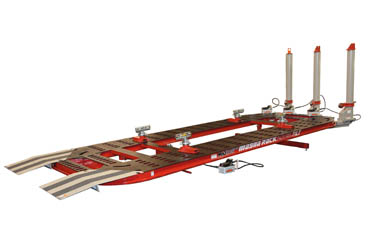 The Magna Rack SLT series of racks offer a feature set which customers have embraced in today's collision repair rack market place. It has an air hydraulic tilt capability, a faster pinch-weld anchoring system with fewer bolts to secure it to the rack platform and 60% more chain tie-downs for efficient and timely vehicle tie backs.

Click on one of the section titles to learn more about the Magna Rack SLT Series Frame Straightening Racks.
Features
---
Lifting Power
10,000 lbs lifting capacity provides you with more than enough strength to pick up the vechicles you will encounter.
---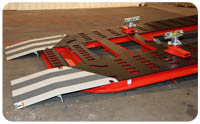 Quick Loading
The Kansas Jack Magna Rack SLT's removable drive-on ramps coupled with the platform hydraulic tilt feature facilitates easy drive on vehicle loading.
---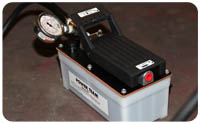 Air Hydraulic Pumps with Gauges
Fluid filled gauges provide for reliable pressure readings at the hook.
---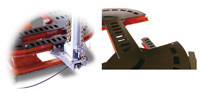 Front and Rear Removable Cross-Members
Perform a front-end pull removing mash, and then remove the cross-member to gain unrestricted access to the vehicle.
---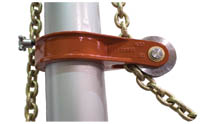 Infinite Positioning of Pull Collars
Variable-position pull collars provide for unlimited positioning for the correct alignment with the pull being made. Water-filled pressure gauges can be adjusted to provide the technician with the best line of sight when making 10 ton pulls at the hook.
---

Pinch-Weld Clamp
Pinch-Weld Clamp base secures to the rack with a single bolt reducing your vehicle setup times.
---
Available Configurations
| | Part Number | Number of Towers | Shipping Weight |
| --- | --- | --- | --- |
| Magna Rack 2.0 SLT | KJT9014202 | 2 | 5,200 lbs (2,359 kg) |
| Magna Rack 2.0 SLT | KJT9014203 | 3 | 5,800 lbs (2,631 kg) |
| Magna Rack 2.0 SLT | KJT9014204 | 4 | 6,400 lbs (2,903 kg) |
| Magna Rack 2.2 SLT | KJT9014222 | 2 | 5,620 lbs (2,549 kg) |
| Magna Rack 2.2 SLT | KJT9014223 | 3 | 6,220 lbs (2,821 kg) |
| Magna Rack 2.2 SLT | KJT9014224 | 4 | 6,820 lbs (3,094 kg) |
Specifications
| | Magna Rack 2.0 SLT | Magna Rack 2.2 SLT |
| --- | --- | --- |
| Rack Length: | 20' (610 cm) | 22' (671 cm) |
| Rack Max. Length (with Ramps): | 21' 6" (655 cm) | 23' 6" (716 cm) |
| Rack Max. Length (with Towers and Ramps) | 24' 4" (742 cm) | 26' 4" (742 cm) |
| Width of Rack: | 88" (224 cm) | 88" (224 cm) |
| Width of Rack (with Towers): | 12' 2" (371 cm) | 12' 2" (371 cm) |
| Width of Treadway: | 26.5" (67 cm) | 26.5" (67 cm) |
| Center Opening Width: | 35.5" (90 cm) | 35.5" (90 cm) |
| Overall Height (Towers Down): | 8' 4" (254 cm) | 8' 4" (254 cm) |
| Overall Height (Towers Extended): | 9' 2" (280 cm) | 9' 2" (280 cm) |
| Tie-Downs: | 222 | 244 |
| Working Height: | 22" (56 cm) | 22" (56 cm) |
| Lifting Capacity | 10,000 lbs (4,536 kg) | 10,000 lbs (4,536 kg) |
| Pulling Capacity | 10 ton (9t 72kg) | 10 ton (9t 72kg) |
| Power Requirements | Air | Air |
Accessories
| Part Number | Description |
| --- | --- |
| K0059326 | Basic Accessory Kit. Set Includes: 1 Self-Tightening Pull Clamp (Single-Bolt), 1 Side Pull Bracket (Single-Bolt), 1 Self-Tightening Pull Clamp (Double-Bolt), 1 Side Pull Bracket (Double-Bolt), 1 Self-Tightening/Multi-Angle Pull Clamp, 1 Small Fender Puller (Uneven Bars), 1 Self-Tightening O-Ring Pull Clamp, 1 Tac Clamp, 1 Tac Clamp Plate (3"), 1 Tac Clamp Plate (2"), 1 Tac Clamp Plate (1"), and Silhouette Tool Board |
| 9020026 | Truck Tie-Down Board |
| 9020030 | Vehicle Loading Package. Includes: Winch, Wheel Stands, Car Dollies, and 2 Bag Air Jack |
| 9025050A | Overhead Pull with Collar |
| SL59319 | Light Duty Frame Anchoring |
| 9033160 | Down Pull |
| 9025018 | Pushing Post with Ram and Pump for Magna Rack SLT |