Product Overview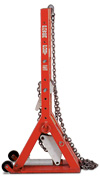 Kansas Jack Power Post Frame Straightening Floor equipment provides space/saving functionality and portability, allowing you to make the most of your shop's space.
Floor pull system utilizes tie-downs which are countersunk in the floor - there when you need them, out of the way when you don't.
Power Post's low cost makes it ideal for small shops; it's portable, space-saving design makes it perfect for larger shops looking to squeeze in extra production space.
Comes with pump, ram, anchoring and pulling chain.
Click on one of the section titles to learn more about Power Post Frame Straightening Equipment.
Specifications
| | |
| --- | --- |
| Height: | 4' 8" |
| Weight: | 163 lbs |
| Extension Length: | 31" |
| Height with 1 extension: | 6' 10" |
| Maximum Extensions: | 2 |
| Pulling Capacity: | 5/10/20 ton |
| Hydraulics: | 10 ton ram with 6 " stroke |